Curriculum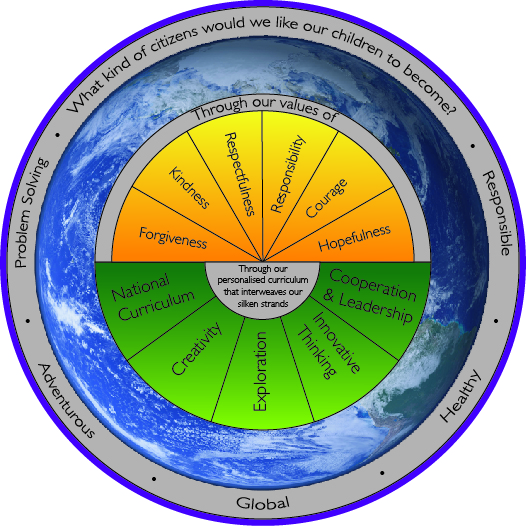 We believe the benefits of a balanced, engaging and well delivered curriculum is at the heart of a good education. We want to develop your child's thirst for learning, create skilled communicators, good readers and writers, alongside developing their imagination, creativity and confidence.
Our curriculum is creative, well balanced and topic based. We want every child in our Federation to have a happy, safe and inspirational engagement with education. We are passionate that every child enjoys the best opportunities to widen their aspirations, develop and stretch their abilities whilst nurturing their spiritual, moral, social and cultural development. Our children are expected to do their best whilst taking pride in their education.
Every day we have lessons in Maths, Reading and Literacy across all the years. We want all our children to take responsibility for their own learning, each child will be guided to their next steps through feedback and marking.
Childrens' individuality is celebrated by enhancing strengths and encouraging all areas of development. Our teachers are expected to know exactly where the children are placed in their learning journey and individually tailor their next steps. Senior leaders are responsible for ensuring that each child's targets are being met and exceeded so your child can reach their true potential.
As we have classes of mixed year groups there is a rolling programme so that all children cover these topics throughout their time within our schools.
| | | | | | | |
| --- | --- | --- | --- | --- | --- | --- |
| Year | 1 | 2 | 3 | 4 | 5 | 6 |
| R/1 Interim | Under the Sea | Changes within living memory | Eating Healthy | Maps at School | Forms of Transport | Off to the Moon |
| Y1 | Amazing Me | Safari | Famous Artisits | Local & contrasting locality | Night and Day | Seaside Holiday |
| Y2 | Polar Regions | Remembrance | Great Fire of London | Weather and Seasonal Change | Maps, routes and trails | Kings & Queens |
| Y3 | Egypt | Volcanoes | Modern Britain | Local Study | Saxons and Vikings | Rainforests |
| Y4 | Ancient Greece | Explorers | Stone Age- Iron Age | Take a Picture | Geography fieldwork/Rivers | Geography/ coasts |
| Y5 | Mayans | World Languages | Crime and Punishment | Local Study - Tudors | World study/mountains | Young Enterprise |
| Y6 | Battle of Britain | Evolution | Anne Frank | N&S America | Space | Romans |