SCHOOL CLOSURE TASKS
Dear Kingfisher parents and carers,
We currently find ourselves in a position that none of us could ever have possibly imagined. Even though the school will be closed for the foreseeable future, we are going to pull together as best we can as a school community to support the children's well-being and learning.
With this mind, I will be posting daily English, maths and topic activities for your child to complete at home during this period of school closure. Children still attending school (as part of the Key Worker childcare arrangements) will also be following the same activities so that the learning provision for all of our pupils remains equitable.
Reminder: Could all children still attending school please bring home learning packs with them.
What does my child need to do every day?
Simply put - some maths, English and topic activities.
Since the Easter break, I have been encouraging all of the children in Kingfisher class to engage with the BBC Bitesize Daily lessons.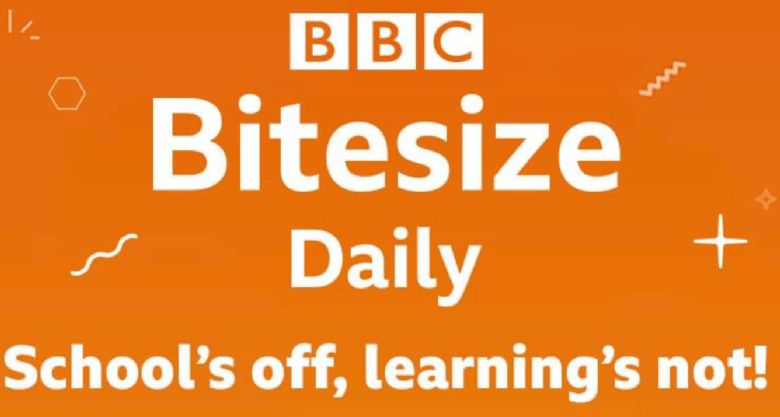 These lessons focus upon the key skills children need to learn in each year group. As we are half way through the year, the Bitesize lessons may cover content that your child has already been taught; however, new learning is also going to be covered. Therefore, the best way to make sure that your child keeps up with the learning specific to their year group is to engage in these lessons.
Everyday the BBC supplements these lessons with a daily television magazine show that can be found on the iPlayer. The 9-11 programme is most suitable for children in Kingfisher class.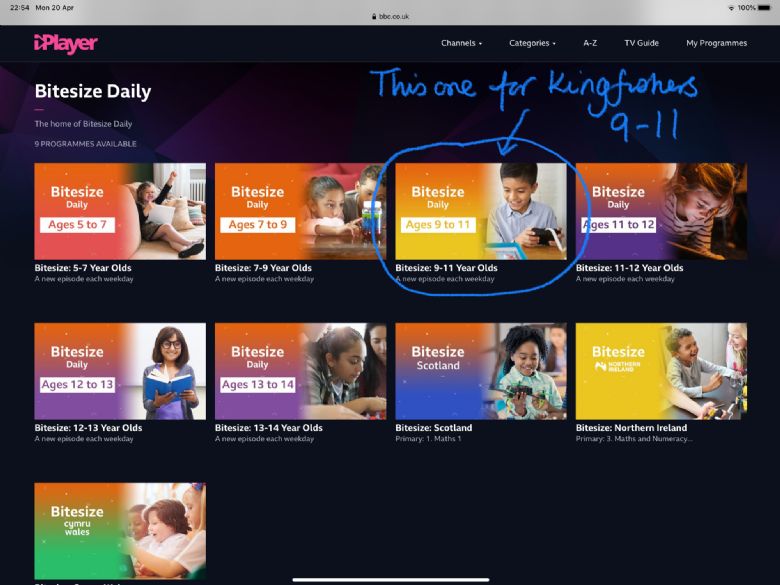 For some families, the online lessons may not be suitable or accessible. In this case, please keep working through the home learning packs (Black folders / CGP textbooks) that were sent home at the beginning of the school closure. If you run out of work in these folders, contact the school via email or through Class Dojo and I will put together another pack of work for you.
What is Class Dojo and how should I use it?

Class Dojo is a secure, online communication platform which allows parents, pupils and teachers to stay in regular contact.
Throughout the period of school closure, I shall be using Class Dojo daily to post information about daily lessons, activities and challenges. Through Dojo, parents and children can send me messages if they have a question or comment about their home learning. Equally if you just want to say hello, that would also be fine!
Ideally, we would also like all children (or parents) to upload 3 times per week a photo of the learning which is being done at home. Photos can be uploaded through the child's portfolio or through the messaging function.
How should the rest of 'home learning time' be spent?
It's your choice! One of the advantages of home learning is that your child's interests can lead the way. Your child could …
Go outside and just play, write a diary, do some colouring-in, exercise, cook, make junk models, play board games or card games, draw in a sketchbook, make Lego models, plant some seeds and watch them grow, create a scrapbook, learn a new language (download the Duolingo app to help with this), build a den, research a topic of their own choice, learn a new skill like origami, identify birds visiting the garden – the list is endless.
Help, I've never home-schooled before and I'm feeling overwhelmed
This is an unprecedented time and we are all having to make rapid and challenging changes to our daily lives. Our children in particular are now faced with quite dramatic shifts in their familiar routines, whether staying at home or remaining in school, and it will take them a while adjust to their new circumstances. Therefore, I'd like to stress that there is no pressure to complete all of the tasks given for Day One, or any other day for that matter … just do what you can, when you can. The tasks are there as a guide to help you manage home learning; however, if you want to spend a whole day doing art activities, cooking & baking or building a den in the garden - I strongly advise you to do so!
Remember I am also still working either at school or at home during this period ( ... health permitting!), and I'm always happy to help or advise you in anyway I can. Send a message through Dojo or call/email the school office, and I will get back to you as soon as I can.
WE ARE IN THIS TOGETHER!
Above all else, in these uncertain times, take care of yourselves.
Wishing you all the very best, and I hope to see you all in the not too distant future!
Miss Willgress